About Villa Olka
The villa is located in a very quiet village Grabovac, where you can have an absolute peaceful & relaxing holiday with everything being only a 30 minutes drive. The villa is surrounded by mountains and has fantastic sunsets. Villa Olka has originated from more than 150 years old family home Dundić which was partly burned down in World War II. The guest have on disposal one more house, the restaurated object, once used for drying meat, and now it contains a great fireplece, a baker's oven and a room with a bathroom.
DALMATIAN BOWLING – The yard of the Villa accommodates a 26m long bowling field. Everyone will quickly learn and enjoy this game, which also exists as an Olympic discipline.
MUSEUM AND A ZOO – Ante Dundic, Croatian hunter with most trophies lives in Grabovac. His trophy museum is one of the nicest in the country, but it's also well known as a museum with highest number of moufflon trophies in the world. The ZOO is located within natural authentic ambient, where many different species freely move around fenced grounds.
HUNTING – Grabovac village and surroundings and well known areas for small animals, and the nearby Biokovo mountain is the most famous as hunting area for wild goats, wild pig and moufflon.
RIDING AND CARRAIGE – Those that enjoy riding can practice their hobby with beautiful Lipizzaner horses. Less brave once can enjoy rides in a beautiful oldfashioned carriage.
POKER – mobile convertible table can be placed on any location inside and around the Villa.
---
Supporting facilities for leisure
- Parking for 10 cars
- Pool with waterfall (The water is free of any chemical supstances)
- Jacuzzi & Sauna (Finnish)
- Gym
- Massage chair - Room for billiards, darts, pinball
- Bowling outdoor ground
- Rooms for chess, cards, and other social games

---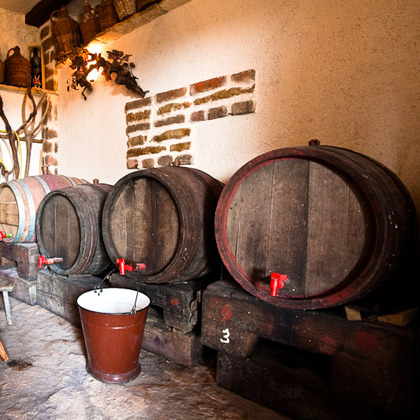 Except classical cuisine in a villa there are;
- a large fireplace with the possibility of using spit
- outdoor barbecue
- bread oven

A typical Dalmatian tavern with the possibility of degustation of home production of wines and spirits, bottled wines and other beverages.
---
Possibility to organize excursions nearby the villa
- rafting on Cetina River – from Blato to Omiš
- beautiful untouched nature and the canyons where the western film Winnetou was shot
- organizing of lunch for small and big groups
- hike up the mountain Biokovo slope, Sv. Jure, by following the marked trails, with or without a guide
- Departing in the vicinity of Zagvozd 10 km away from the villa
- Following the "wine roads" visits to wine cellars
- consumption of products in winery Grabovac
- tour of a typical Dalmatian town Imotski
- visit the two beautiful lakes: Red and Blue lake
- possibility of an organized lunch, distance 25 km from the villa
- Transfers to Brela, Baska Voda, Makarska
- departures at Fish picnics on the islands of Brac and Hvar, 22 km distance from the villa
- go to the sanctuary at Medjugorje, distance from villa - 50 km